The launch of an operational excellence project always comes with a first question. What are the tangible effect that the organisation will benefit from? There is of course not one single answer. At Kallion we strongly believe there are benefits in multiple areas: operational performance, employees well-being and engagement, as well as laboratory sustainability. And they are even interdependant!
Operational performance
The first natural category of benefits from an operational excellence project is related to the actual operational performance. We can measure it across three key dimensions.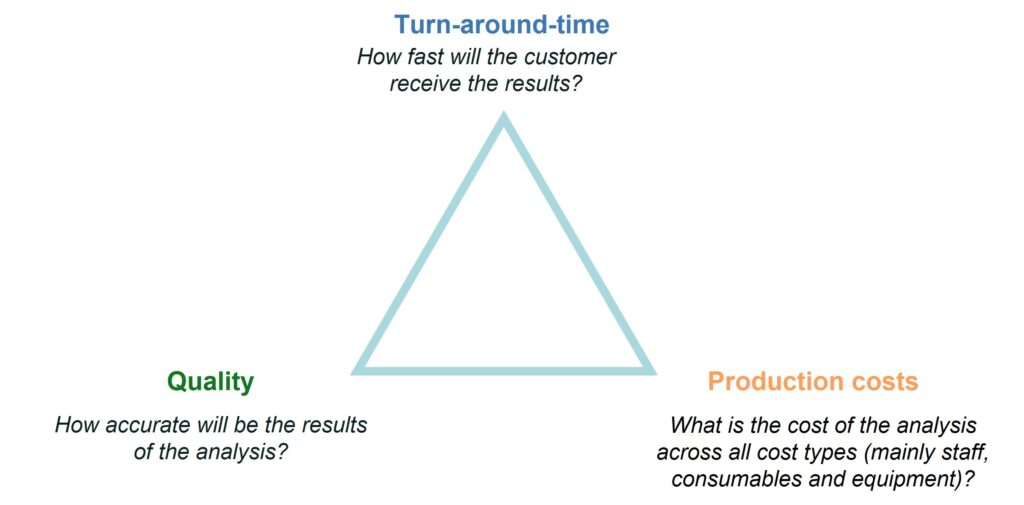 These dimensions are complementary and should therefore not be looked at separately. There is the risk otherwise to neglect one for the benefit of the two others, which can have desastrous effect.
Kallion can help you set-up clear dashboards to measure the impact and benefits on these dimensions. In our projects, we involve all functions to ensure that impact is traceable, tangible and especially achieved. You can read more about our approach on our methodology page.
Employees well-being and engagement
We believe that employees well-being is and will remain a key success factor for laboratories. Ensuring employees engagement can have ineed multiple benefits.
Reduction of the number of incidents and accidents and therefore of sick leaves and long-term absences
Reduction of turnover (which will in turn have an impact on the cost)
Increased quality especially thanks to trained and motivated technicians
Laboratory sustainability
Sustainability and green initiatives are all around us. We are certain that we can achieve a lot in laboratories to have eventually a positive impact on the planet. And customers will actually be receptive to this!
Benefits can have multiple forms, and are often coupled with actual direct positive impact on the P&L.
Energy savings by reducing and optimising the laboratory electricity or gas consumption.
Water savings.
Use of less polluting solvents and reduction of accidents in the laboratory.
We encourage you to visit the MyGreenLab site to read more on this topic.