From diagnostic to implementation
At Kallion, we believe that every laboratory is different. The matrices analysed can be the same, the parameters measured identical, the methods following the same norms, there will always be a difference. It can be in the norms or the results interpretation. Or it can be in the actual organisation in the laboratory to comply with the local constraints. This is why Kallion methodology is flexible and tailored to each laboratory. We can accompany laboratories from diagnostic to implementation and results tracking. But it is up to each laboratory to select the steps most relevant for them and stop at any time of the process!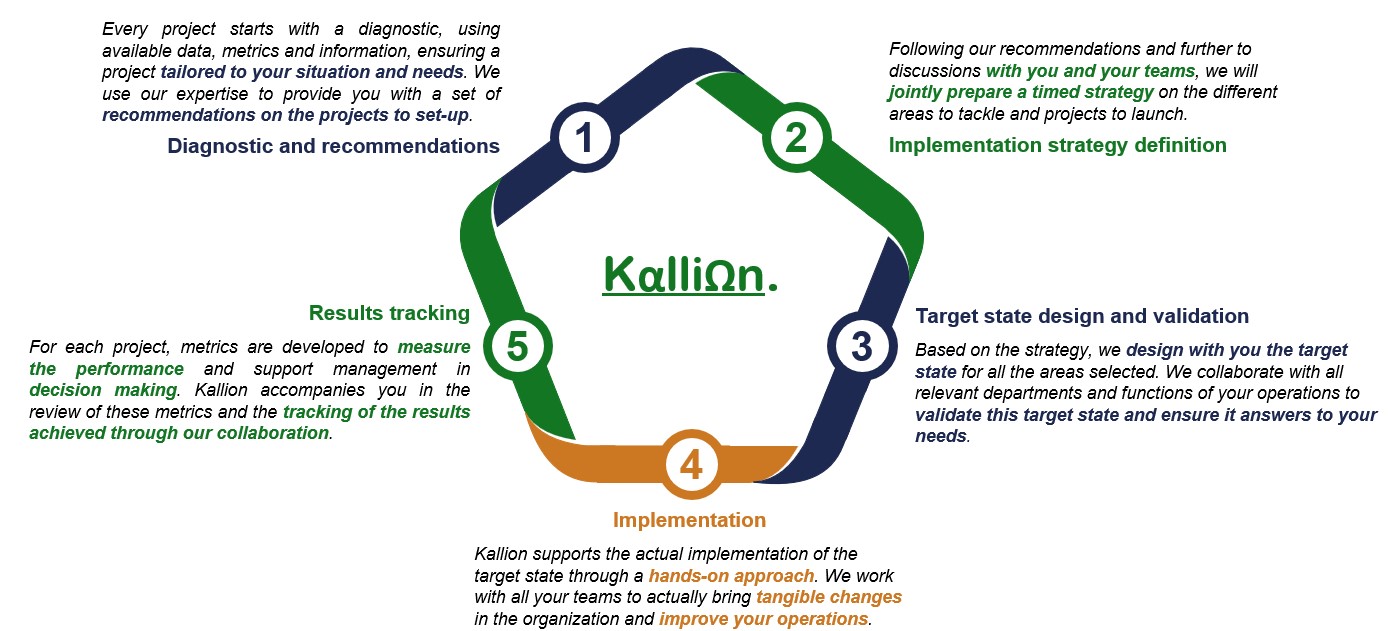 Everything starts with a diagnostic
We always start with a diagnostic. No matter the size of the laboratory or the experience of the laboratory with regards to operational excellence. We will analyse your operations using our Kallion Operational Excellence framework. Our objective: cover all aspects of operational excellence and then provide you with our observations and potential recommendations.
Kallion framework contains more than 25 dimensions organised across three key pillars.
Portfolio Management – Which services are sold to the customers? What is the volume and the pricing associated to these services?
Operational Performance Management and Improvement – What is the current performance to answer to the customer needs and how can it be improved from a holistic perspective? This pillar includes among others: Operational metrics set-up and review, layout and flow analysis, laboratory flexibility, performance management, green laboratory set-up.
Footprint and logistics – Where is the laboratory located and how can the logistic activities outside of the laboratory premises be optimised to better serve the customers?
To know more about our framework, please contact us at info@kallion.eu, so that we can present it to you in greater details and identify with you which areas can be most interesting for you. Running a diagnostic comes with no commitment on future steps. You are of course free to stop our collaboration once you have received the results!
The strategy definition is key: it must match your needs
Once the diagnostic finished and the results available, we will elaborate with you a strategy. This will then result in the launch of a set of projects addressing your areas of focus. Strategy definition is key in our approach as there is no such thing as "one-size-fits-all". At Kallion, we believe that tailored approaches, strongly aligned with all stakeholders in the laboratory will be the most efficient. We will therefore always consider your entire set of projects and protect critical resources. And if you want, we can even manage your overall projects portfolio, going beyond the operational excellence scope. Like that, priorities and status are always clear and transparent.
Designing the target state, a joint exercise with all involved functions
Based on the strategy, we will bring all involved functions around the table. Quality, management, operations, maintenance, etc. Everyone must be involved in defining where it is that the operations should go. Through this, we ensure future buy-in and pragmatism in the approach. The target state will of course always evolve, even during implementation. But it is key to align on a first version, validated by all stakeholders. Kallion's experience in interacting with quality, leadership, operations and technical experts will make this step easier. We will help you bringing consensus on the direction and the milestones.
Kallion accompanies you on the implementation, a major step of your journey
One of Kallion strengths lies in our implementation approach. Not only can we define together with you what should be done and how in your laboratory, but we can actually implement it. Our experienced team will work with you through all the steps of implementation for the areas we identified as prioritary and to ensure that the target state we designed actually becomes reality.
In any operational excellence project, implementation is key. It brings actual impact, it ensures that the project is not seen as yet another intellectual exercise. At Kallion, our mission is to make this impact visible to all. And by following all the steps of our methodology, we can be sure that it will actually answer your needs and be visible on your dashboards.
Every laboratory is different. We will adapt. We combine an on-site presence to accompany the change with periods where the laboratory is digesting and adapting to the change. Implementation takes time. And that is why we produce detailed roadmaps allowing us to celebrate successes and ensuring we move at the right pace.
But because we cannot be expert is everything, Kallion is partnering with companies providing related services: automation, LIMS, supplies for microbiology analyses, etc. Whenever required, we will suggest their involvment, so that you always get specialists to talk to on your particular needs.
Measuring results: a way to ensure objectives are reached and to identify future areas of work
You want the projects to bring tangible and visible impact? So do we. Our framework and methodology comes with a certain number of metrics that we will implement and review in your laboratory. In general, we will measure the results on four dimensions, but this will depend on the projects!
The income statement (or P&L) of the laboratory.
The turn-around-time of the analyses.
The quality of the laboratory.
The health and safety at your premises.
These metrics will be defined as early as possible in the projects. This will bring transparency and enable a step-wise approach in your improvement journey. If you want to know more on impact and benefits of operational excellence project, you can consult our article on the topic.
Want to know more? Please reach out to us at info@kallion.eu or though our contact page and we will set-up a call to further exchange on your particular situation!